Okay so you have your Domain name picked out and you've set up hosting… Now what? Oh right, we need to give our website a face. If you are using WordPress like the rest of us, go to your dashboard and select the "appearance" tab. This will give you the option to choose from the huge array of free themes out there to get started. Pick a free theme, start building your site, and hit LAUNCH!
For those of you that have already done this and are ready to move on to more custom options, I have narrowed it down to my top two favorite themes. Hopefully this will help you make the choice quicker so you can get your website looking more professional!
Themeforest (Envato) – Avada:
According to Themeforest, this is their #1 most downloaded theme, and it looks pretty impressive. They have one of the better scrolling banner options I have come across and an easy-to-use, drag-and-drop menu and layout option. If you are looking for easy customization, this might be the theme for you. The Avada theme also offers a selection of ready to use theme demos, so if you see one that you want to emulate you simply switch the graphics and text for your own and you're ready to launch!
For $60, you get access to use the Avada theme on multiple websites, and updates are included! The only downside to Avada in my opinion is that they make you pay extra for extended support. That being said, for the price it's a winner!

ElegantWebsites.com – Divi:
I desperately want to try this theme out, but instead of a one-time fee, ElegantThemes.com uses the yearly subscription model. Don't freak out yet though! You can cancel at any time and keep your current theme, but you won't have access to updates. They offer total customization, and you can even edit the text and layout from the front end! This makes the whole process a lot easier, allowing you to instantly see your changes appear after making them. If you want to give it a shot you can demo the Divi theme here.
Also Divi offers other useful tools like Split Testing, allowing you to test out which changes provide the best results when you want your customers to take action on your website! However tempting this theme is, keep in mind that you will have to pay for it again each year. This might not be a bad theme as you get tech support and updates included, which some other providers don't offer. If you can hack it, the "Lifetime" package is the best deal here giving you complete access to all their themes and updates for life, for $249!
Personally, I would go with the Developer package for now and upgrade to the Lifetime package towards the end of the year before its time to renew. They allow you to upgrade at any time and apply the credit of your current package towards the price of your new one!
***Once you buy this package you must download the zipped files to upload the theme like most WP Themes… However if you are using a 1-click install for WP, you might have to copy and paste a small section of code in your host's file manager for the Divi builder to function (cpanel – quickinstall – installations (right click – code edit) in Hostgator). For hosting providers with c-panel, this can be done fairly easily. Just make sure you save the original text before you modify anything or you will be looking at a big headache if you are not a web developer. If You would like a more detailed write-up on how to do this, leave me a comment or shoot me an email and I'll do my best to help you out!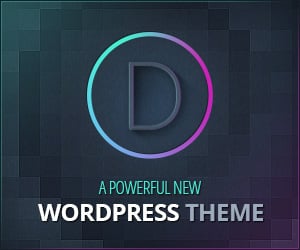 Conclusion: Go with Avada if you are new to WordPress and want an easier to use theme with tons of customizable options. If you are ready to put in the extra work to watch a few tutorials and skim through a few forums to get the look you want, the Divi theme is for you. It will reward you with more customization and provides a good tool for website developers.